More Technical Details:
Product Details:

Perforated metal grating has high load capacity, long life, and high strength to weight performance is achieved through depth of section and structural design. Formed grating planks with integral side channels support loads with minimum transverse and longitudinal deflection. There are no rivets or pressure joints to break or loosen. It is used as safety gratings for stair tread and floors.
Steel Plank Grating is extruded from aluminum 6063-T6. During manufacture, holes can be punched into the grating surface. A rectangular hole pattern is standard. A round hole, square hole or solid surface pattern is also available by special order.
The planks are made in a standard height of 1 inch. Other heights (3/4, 1–1/4, 1–1/2, 1–3/4, 2, 2–1/4, 2–1/2 inch) are available by special order.
Features of Perforated Metal Gratings:
•Easy Installation
•Versatile Application
•Large Open Area for Drainage
•High Load Capacity
•Slip Resistant Design
•Variety of Panel Widths/Heights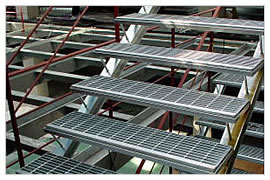 Perforated Steel Grating Floors