More Technical Details:
Micron opening perforated metals are used as filters or screens itself in the screening of coal, gravel and ore; in the shifting and separation of food products and medical material, water well screening, sand control. Made of quality stainless steel or carbon steel sheets, perforated filter tubes and cylinders can be made spiral welded or butt welded in a wide range of sizes.
Primarily used in automotive and filtration applications, perforated tubes are often subject to design requirements, stringent inspections, and competitive pricing. This in mind, we developed a proprietary system that is so unique it not only can produce practically any pattern, but the tightest tolerance perforated tubes available on the market.
Completely perforated or with blank areas, one hole size or a variety of them, straight or flared ends, perforated tubes can be made up to 6 inches in diameter and 30 inches in length in any metal type or thickness.
Perforated metal panels for processing tubes:
Materials: Low Carbon Steel Plate, Stainless Steel Plate, Aluminium Plate, Alloy Plate, etc.
Weaving and characteristics: It is punched to meshes. With the character of winding-resisting, Ageing-resisting, flat and smooth surface, it is strong and serviceable.
Hole style: circular hole, hexagonal hole, fish scale hole, etc.Production can be made in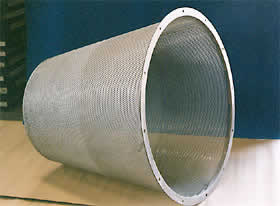 different material, style or hole diameter.
Uses: used in filter of automobiles internal-combustion engine, sieving of mine, Medicine, grain, sound insulation of room, ventilate of grain depot, etc.
Filter tube material : stainless steel 304 316 316l used for water system
Layer: one layer or two layer or three layer
Technical: perforated square hole or round hole or other hole size , then welded specifications base on you.