Perforated metal tubes are used in many industries for a variety of applications, stainless steel perforated tubes are mainly used in filtration system.
Perforated Tube Manufacturing Process:
Metal tubes are usually manufactured by punching the metal sheet in coil form, then rolled, then welded in tube forms.
The perforation pattern in tubes is made by Auto Punch Presses, or Pressing Machine. The machine punched holes in the sheet metals by molds. The perforated metal sheet is then levelled and flattened, cut to size by the slitting machine or shearing machine, then rolled and welded into tube form.

Our Perforated Tube Capacities
Holes Perforation:
Perforated pipes are processed with various hole patterns: Round / circular hole, slot, square hole, diamond, hexagon hole, in straight or staggered patterns.
Diameter: Perforated tube is supplied with diameter 10 mm, 8 mm, 6 mm, others.
Materials: Aluminum, stainless steel, brass, copper, bronze, phosphorbronze, other metal sheet materials.
Welding types: Butt welded, spiral welded
Perforated Tubes are commonly used in automotive exhaust systems and filtration applications
Corrosion-resistant perforated exhaust pipes are used for trucks, sport carsand other gas-fired heating apparatus.
We offer SS 304, 316, Brass, Aluminum, Carbon Steel perforated tubes with various perforation pattern, plating and finishing, used in many industrial fields.
Perforated Tube Products Supplied in Stainless Steel 304, 316, 409, Galvanized Steel, Aluminum, Copper, Non-Magnetic Metal Materials
SS Perforated Tubing, 22 Gauge
OD of 4", spacing of .188 center-to-center, 22 gauge, pipe length 7-11/16".
Stainless steel perforated tube made of 304 Stainless Steel Sheets, staggered holes
Perforated tube 316 SS 14 Gauge


3" O.D. perforated tube 316 SS 14 Gauge, 16 Gauge, 28" long with 3/16 holes at least 50% open area.
Punched Slotted Tubes
Geometry design as below:


The length of the cylindrical tube 30 cm, the inner tube diameter 20-25 cm.
The thickness of the metal sheet is 0.5-1 mm, while the percent of open area is more than 70%.
Pore diameter is of the order 1-5 mm, depending on the percent of open area and number of pores.
The pores could be circular/ slit shaped.
Perforated Tube OD 2.5", 409SS
Perforated tubing with OD 2.5", 22.125" in length
Material: 409 SS for rust capabilities
0.048" Wall thickness, smooth ID, the perf hole spacing: staggered
Sheet size: 24x24inch, 36x40 inch, 48x48inch
Sheet shape: Rectangular
Gauge: 18
Open area: 33%
Spiral Welded Tube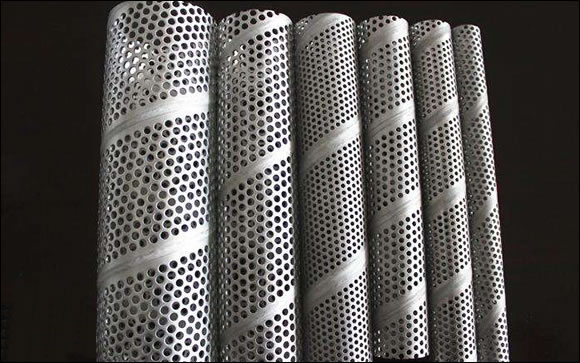 Spiral welded perforated pipe
Detail:
O.D. 1.845" +/- 0.015"
Wall Thickness 0.06"
Length 40"
Round perforations, 1/8" holes with a 3/16" staggered pattern
Perforated Stainless Steel Tube
To Whom it May Concern,
I need to purchase a perforated stainless steel tube. I'm flexible in diameter from 15" to 20". I'm also flexible on length.
I need three different sized holes. I need 1 section measuring 2' to 3' feet with 1/2" perforations, a section of the same length with 3/4" perforations and a third section of the same length with 1" perforations.
It would be helpful to have a 6" section on each end with no perforations. A short area 2" to 3" with no perforations between the three sections would be helpful also
I grow macadamia nuts, and I need to build a machine to grade the nuts into different sizes. I have attached a photo that's similar to what I'm building except the one in the image only has a single hole size and is slotted on one end. I'm looking to improve on that design.
Thank you,
Glenn Reynolds
President, Florida Macadamia Growers Association
863-307-8580
Perforated Metal Tubes
140 mm diameter and 3000 mm length
220 mm diameter and 3000 mms length
Diameter:
Perforated tube Ø3"
Perforated tube Ø6"
Perforated tube Ø8"

L= 6"
D= 2 3/4" OD closed perforated cap
D= 2 1/4" OD open end at nipple
Nipple =3/4" length, NO threads
Material= 316 ss, 16 gauge
1/8" holes, 3/16 on center, Staggered.
Non-magnetic Titanium Perforated Tube


Perforated piping, outer diameter: 12mm, wall thickness: 2mm
Material: Non-magnetic material of stainless steel or titanium
Pipe length: 0.5m
Perforated Aluminum Tubing, Whole Tube Perforation
Standard diameter tube products
The hole size of the tubings can be between 3 to 5 mm.


1" diameter 16" long, thickness reference 1/16"
2" diameter 16" long, thickness reference 1/16"
1.5" diameter 36" long, thickness reference 1/16"
3.0" diameter 36" long, thickness reference 1/16"
5.0" diameter 36" long, thickness reference 1/16"
Perforated hole size: 3-5 mm
Open area: ~ 25%
Hole pattern: staggered pattern
Perforation throughout the whole tube.
Perforated Tube -Square Tube - Zinc Plated Galv.


Surface: Galvanized - Zinc Plated
Dimension:
1" - 3 FT (14GA)
1" - 4 FT (14GA)
1" - 6 FT (14GA)
1-1/4" - 3 FT (14GA)
1-1/2" - 3 FT (14GA)
1-1/4" - 3 FT (12GA)
Perforated Tube Filter, Basket Type, with Handles
Perforated tubing, the tubes are closed from one end.
Inner filter mesh: Woven wire cloth
Perforated Tube ID – 45 mm
Perforation hole diameter – 2.5 mm

Perforated Tube - Core Tube for Pleated Wire Mesh Candle Filters
Inner tube:
I.D. of tube to fit a 1.812" perforated tube
32" over all length outside of weld rings.
Weld rings are approximately 1/2" long.

Filter Screen:
Outside and middle layers: Plain dutch weave (14x88 on both) wire mesh pleats
Inside layer wire mesh is plain weave.
Filtration: Nominal 150 micron
For melt fiber filter elements.
Metal Tubing, Perforated from Stainless steel or brass or bronze or phosphorbronze


Holes: 13mm diameter
Distance between hole perimeters 3mm including 1 mm shamfer
Basket Strainers for Process System
Strainer baskets of 2" diameter tube (16 Ga. thick) x 3-3/8" inches long.
 

Metal tube  1mm round holes on a 60 degree staggered pattern, 1.52mm pitch.
Material 316 or 316L.
¼" on each end to be free of any holes.
Perforated metal disk with the same pattern to weld on the bottom.
Brass Perforated Tubes
Tube length 118 mm
External diameter of the tube - 21 mm
The thickness of the metal sheet 1 mm
Material of the tube: Brass, copper

Diameter of the hole in the perforation - 2mm
Center-to-center distance in the perforation - 5 mm
Filter Tube, Copper also available.
409 SS Perforated Tubes


0.125" Hole x 0.188" Centers (Staggered 60° Pattern)
1.000" OD x .035" WL x 240" LG
1.500" OD x .035" WL x 240" LG
1.750" OD x .035" WL x 240" LG
2.000" OD x .035" WL x 240" LG
Packing
Perforated tube shall be wrapped with Nylon Burlap or export standard with PLY wood pallets or wooden pallets with stamped " fumigated ".
PDF Technical Details:
1. Pleated filter element protection sleeve tube: 1.4571 26,9x1 x 30 stainless steel perforated tube for mesh filter shielding layer
2, Hexagonal Pattern Perforated basket strainers, made of tubes fabricated with perforated caps on the bottom, 22 gauge of 304 SS, a ¼" staggered hex hole pattern, and 79% open area. Tube size ø2.50" OD
3, 14ga 304ss perforated stainless steel pipe 6-3/8" ID x 80" long.
4, Enclosure tube, with circular hole perforation, ID: 127mm, OD: 133.35mm, Material: 304 SS
5. Perforated stainless steel tubes, for nitrogen and hot hydrogen gases filter
6. Butt Welded perforated 316 ss tube as drawing attached
7. Spiral Welded Perforated Tube, Galvanized Steel